When I first heard that someone has written a book about Benjamin Orr and The Cars, I sat back slightly bewildered, wondering if the person that wrote it was from Northeast Ohio. Me being from the area, of course knew that Ben Orr was a native Clevelander, and as such we who grew up in the area were all fans of The Cars. The fact that the music was great did help. My second reaction to the news was to order the book.
Joe Milliken has written an amazing retelling of the life of Benjamin Orzechowski, or as he was known in Cleveland, "Benny Eleven Letters," or as he became known, Benjamin Orr. The level of research and discovery of the life of Ben is amazing. Great insights as to who the man was, where he came from, and how he lived his life, onstage and offstage. Ben being the consummate rock star, was also a very humble, gentle, and exceedingly friendly person, even if at first he was a bit shy. Then there's the voice, a distinct voice that defined more songs by The Cars than many realize. Sure, everyone realizes it's Ben singing "Drive," though the earlier hits as well are sung by Ben.
This book explores the man and his music in such wonderful detail that you come out of finishing the book feeling like you knew Ben, and yet also really missing him as we lost him way too early. Full of pictures from his stage life and personal life, the book covers Ben from his early days in Cleveland, to his final shows as a member of "Big People." Truly, from a "Grasshopper" to "Big People," by way of Cars.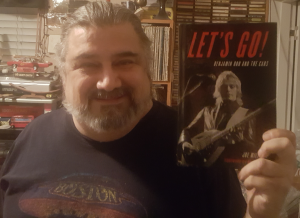 For me, The Cars have always pointed the way. Coming from a private school, I chose to attend a public high school. This particular school had a fully student run radio station, which at the time was an incredible thing to have. I remember sitting inside a study hall on the first day of school, wondering what I was supposed to study since I'd not yet attended any classes, when all of a sudden over the speaker system throughout the school, the song "Just What I Needed" came on and played through. That was it, no announcement, apology, or any commentary, just the song. I sat and realized that this was a situation that happened inside that radio station, and at that point made it my goal to become a part of it. Freshmen weren't allowed in at the time, it was a 10th through 12th grade "club." Later I found out it was all of my English classes, plus so much more, it truly ended up defining my life… ever since.
I can truly and truthfully say that hearing that song there and then made me who I am today. So, when I met Greg Hawkes last year (2019), when he was on tour with Todd Rundgren, and I thanked him "for everything," I truly meant it… thanks for everything.
Back to Joe's book, there's a story Joe tells at the end that defines the book and his experience with that same song. I'm not giving it away here, though it was equally as defining and appreciated, only in the reverse order. To me the song was telling me that I'm going to do well and to Joe the song was telling him that he did well. That's the glory of music.
Really, back to the book, it took eleven years for Joe to write this book. The amount of research he put in and cleanly and concisely defining so much about Ben Orr, it was a daunting task, yet accomplished with a level of expertise in storytelling that it comes across as a tale of a great man and how loved he is and was. One thing that's interesting is how many people were reluctant to talk to Joe as they didn't want him writing a "tell all" or an "expose" on Ben, they wanted to preserve the good, if not really great, name of Benjamin Orr. And the book reveals why his friends would be so protective of his legacy. The man inspires us all. Thank you Joe for pursuing this story, we Clevelanders, and others that are just fans, appreciate what you've accomplished here.