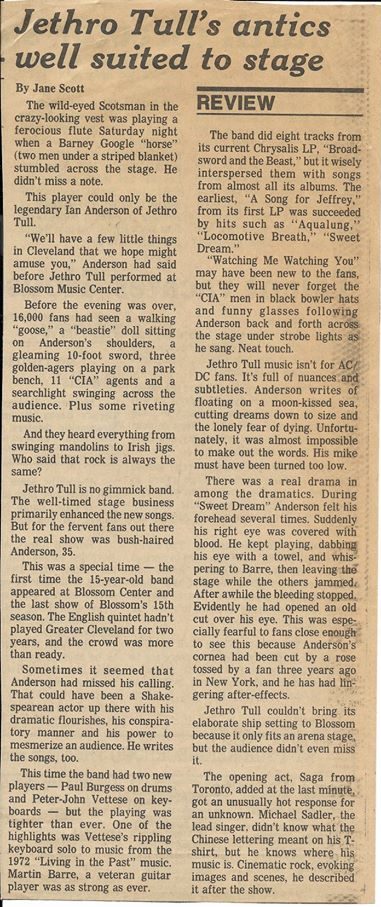 This is a review of what was my first international touring band concert, as I explain in the review. I just sent this to people who are writing a book on the band, Jethro Tull, from fan memories. I hope what I've written is included. And yes, it's a review of a concert I had attended, plus more.
In the summer of 1981, I was introduced to the music of Jethro Tull. Sitting on the floor between speakers, I was getting an education in music. This was the beginning of a summer romance between me and the girl that gave me this music education. We had already shared an interest in music, yet there were gaps in my knowledge. She put on the Aqualung album, and I had no idea what I was in for. At first, the riff of the song "Aqualung" hit me, and I'm thinking it's a later '70's era hard rock album. As the album played on, and my observation of the music developed, I realized that it was much more than just a "hard rock" album. It was then pointed out to me that it wasn't even a later '70's era album! I was completely hooked as the album was turned over to side 2, and the ideas presented both lyrically and musically in "My God" began to unfold over me. The relationship with the girlfriend only lasted the summer between my junior and senior year of high school. By the end of that summer, I had been turned into a fan of Jethro Tull and their music. At that point, my only concert experiences had been a couple of regional artists that played in my high school, plus one who also one could label a 'regional act', that played at the beautiful Blossom Music Center, which is just south of Cleveland, Ohio. Growing up just outside the small town of Chagrin Falls, I was privileged to have wonderful sources of music, whether it be by radio or word of mouth. What I appreciate most is the sharing of artists that mean a lot to people, and learning about the artists from friends. That summer of 1981 was the start of that appreciation of sharing music, turning others on to bands that I love and learning from them what bands they love.
My first international touring artist concert was Jethro Tull, at Blossom Music Center, on September 11th, 1982. I'd already spent over a month away from home at Kent State University, so coming home for the weekend was just to make it to the concert. It was a struggle as my friend Gordon, who knew the way to get to the beautiful outdoor venue, was on a parentally imposed restriction to not go, and yet I needed him to drive. He and I took our two dear friends, me taking the girl that got me into Jethro Tull, her name is Paula, and he took a girl that had no idea about the band, her name is Brooke, yet she was up for the fun of going to a concert. We didn't know that there was to be an opening act, and only until recently did I realize that I'd gotten to see Saga, on their "Worlds Apart" album tour. Saga was added at the last minute, and even though their show was exceptional and memorable, I completely forgot that they were the opening act. I'd like to thank the music journalist Jane Scott for including that in her review, as it reminded me that Saga had performed.
The position we selected on the lawn was good. Blossom Music Center has only a few spots that aren't optimal on the lawn and those are where the support pillars block some parts of the stage. We didn't have any blocking in our view. We did have binoculars and were able to swap back and forth to get a better and closer view. I was watching through those binoculars as it appeared to me that when Ian was swinging his flute around, that he hit himself in the head. Now, according to the review written by the amazing Jane Scott, in the Cleveland Plain Dealer, it seems that Ian reopened a wound he had gotten a few years earlier when he was hit in the head by a rose thrown onto the stage by an attendee at Madison Square Garden. What I saw was him rushing off stage and coming back after a moment, with a towel that had an increasing in size blood stain on it.
Having not been fully versed on the music of Jethro Tull, mostly being familiar with Aqualung, War Child, Songs From The Wood, and also the new at the time Broadsword And The Beast, when they played an instrumental version of "Living In The Past", I thought that was the original form of that song. Much to my surprise and much later by a few years, did I hear the full and original version, with lyrics included.
So my concert list increased, first being Charlie Wiener as the opener for Alex Bevan, both extreme favorites of the Northeast Ohio music scene, performing at my high school. Then at Blossom with Cleveland's favorite sons, The Michael Stanley Band, my love of music grew and the appreciation art of the performance was sealed. While the previous bands I'd seen had performed their music beautifully, the stage show of Jethro Tull was something to admire. Really, it set the standard for me. Though this show didn't have the tall ship that they were reported to have, due to size restrictions which amazes me as the Blossom Music Center's stage is a huge proscenium stage, it must have been due to height, that prop was not missed, or even noticed by me at the time. I didn't find out that they had it and didn't use it at that show until I read the review by Jane Scott. And though the ship was missing, the acting out of songs included Ian walking back and forth across the stage with each time coming near the edge of the side stage another person in a full jumpsuit would add to the line following him. That was during the song, "Watching You, Watching Me", and at the end of the song, which is a cold ending, the lights went out, only to come back on a second later with the stage being cleared. Another performance bit had what looked to me like a park bench and a trash can, with Ian digging through the can pulling out what I thought were concert t-shirts and other bits of merch, throwing them into the audience, only to finally pull out a mandolin and performing the song "Fat Man" on it.
My vivid memory of the concert is due to the stage show, and also the fact that it really was my first concert by a big internationally known performing band. There were struggles getting home, the story of which I will not share, yet all in all it was a great night.
I've attached a scan of the article review that Jane Scott wrote in the Cleveland Plain Dealer, one that my friend Gordon had found when looking through old things he'd collected over the years. Gordon scanned it and shared it with me. I'm ever so grateful to him, and the two girls that went with us, for making that night a special memory, though also and of course to Ian Anderson and Martin Barre, plus the rest of Jethro Tull band, for really giving me a great start to my concert going existence, of which we're in the over 800 shows I've seen at this point. And the number continues to increase!
Having had a wonderful music education, thanks more than just in part to Paula, Gordon, and others, I also attended a high school that had a vocational program that centered on a fully student run broadcasting radio station. My understanding is that in the decades since, that program has been greatly reduced, and the station is now a 'community' station. Really though, WKHR, the Voice of the Chagrin Valley, will always be in my heart as it really made me who I am today. My pursuit of a career in radio broadcasting was thwarted for a long time by my interests in other forms of education, whether they be sociological, experiential, romantic, or other ways, I ended up moving on to other things in my life. The passion for radio remained, and when I found that I could create an internet radio station, and also interview musicians on that station, I truly found a place for my passion. Though it is truly a hobby, it is what I feel defines me as it allows me to express myself and maintain the idea of spreading the appreciation of music artists that I love and have given so much to me through their music.
Back in 2012, when Ian Anderson's publicist, Anne Leighton, was spreading the news about the album that was upcoming at the time, Thick As A Brick 2. I reached out to see if I could get a copy to review, and hoped that maybe I'd be granted an interview. I was, and I spoke to Ian one early morning after he landed late the night before in the United States. This became my first phone interview, and what a place to start! The struggles began when I was called early in the morning that Ian would be ready to talk, if I could call him at his hotel. The flight had been delayed it seems, and that meant that Ian, or others on the tour, hadn't yet been able to acquire American cell phones, so no calling to me was possible. This presented an issue as the process I'd just finalized of recording calls required two to call in to a service. This meant that if I was to call Ian, there wouldn't be two calls in to that service, thus I couldn't record the interview. Thankfully, I found a solution. Since I still had a landline, plus my cell phone, I called in using my cell phone, then called in using my landline, then three-way called Ian. Of course I called first to check as I was still setting all that up, and had a brief conversation with Ian, telling him I'd call him right back! Yeah, my first phone interview and I'm having to call him back due to technical struggles. Setting everything up in different rooms of the house, struggling to move throughout to do so because, on top of all of this, I had a broken ankle and my mobility was greatly reduced. I was hobbling through the house, nervousness increasing, and really wanting to do a good interview. Thankfully Ian is an amazing interviewee, gracious, understanding, interesting, and appreciative. We talked for a good length, touching upon many subjects including songwriting, performing in the Middle East which is where he had just flown in from, also of course the upcoming album and how it was returning to the subject of Gerald Bostock and his possible futures or history over the previous forty years. Then Ian gave me what has become a prized possession, a station ID for my show, Musical Conversations. I've had the pleasure of speaking to Ian a few times since, and do look forward to talking again. As always, I thank Ian, and also Anne for making that connection happen.